Education
Jun 12
Scheduled Downtime on Tuesday 17th June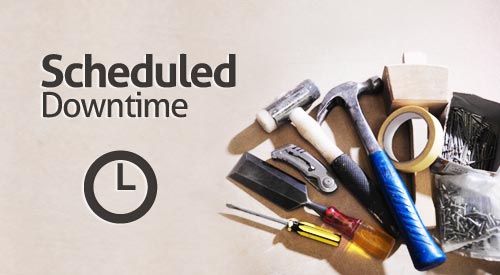 On Tuesday 17th June, Single Sign-On at the University will not be available between 8am and midday, due to essential updates to the system.
This means that the following services will be unavailable during this time:
Discover and e-resources
E-books
The My Account feature of the Library Catalogue which will include reservations, renewals and payments
Inter-Library Loan requests
Linking to articles and e-books through My Module Resources
Online print credit
We apologies in advance for any inconvenience this may cause.
We're here right through the summer, for those of you who are still around over the vacation, or are keen to make a start on your dissertation reading. 24/7 opening has now finished until September, but you can make the most of our vacation opening hours. There are still plenty of opportunities to visit us, borrow resources and take advantage of the information seeking advice of your Liaison Librarian, with staffed hours throughout the day and in the evenings.

For up-to-date information about our opening hours at Murray and St. Peters, check the library website
(Source: uoslibperformingarts, via uoslibrarybusiness)
Jun 04
How to encourage students to read for pleasure: teachers share their top tips -
While students might trudge through set texts in lessons, how can teachers inspire them to open a book when they get home? Martin Williams explores interesting initiatives developed by teachers
The big challenge for teachers is not simply getting students to read – it's getting them to enjoy it too. It's one thing for students to trudge through set texts in a lesson, but will they open another book when they get home at the end of the day?
The National Literacy Trust had noted that becoming a lifetime reader is based on developing a deep love of reading.
"Research has repeatedly shown that motivation to read decreases with age, especially if pupils' attitudes towards reading become less positive," it said. "If children do not enjoy reading when they are young, then they are unlikely to do so when they get older."
For younger readers in particular, their home environment is critically important.
"Home is a massive influence," says Eleanor Webster, a primary school teacher in Nottinghamshire. "Supportive and understanding parents are key to developing their child's reading."
Click on the title link to read the full article
Access To Research comes to Sunderland City Library -
From Monday 2nd June the Access To Research database is available in Sunderland City Library (in Fawcett Street, opposite Wilkinsons)

This is a database of academic quality research articles which have all been pulled together in this special database. It is only available through public…
(via uoslibrarysocsci)
May 06
Paying Via PayPal
From Tuesday 6th May, the University is switching on PayPal for any online payment methods.
This means that you can now use PayPal to pay the University for things like tuition fees, accommodations fees and deposits, and any library fees such as overdue fines.
You can also now pay for print credits online by either credit/debit card or PayPal at studentprinting.sunderland.ac.uk by logging in with user id and password and clicking on 'Add Credit'.
Printing credit - now available online

(via uoslibpsychology)
Apr 23
You told us you needed more books on library shelves & online. We've improved this in 3 ways:

   -  invested in extra copies of core reading
   -  expanded your choice of wider reading
   -  bought more ebooks

Over the past 12 months we've bought 7422 new items for you - that's a third more than the previous year!

Now you can share how having more books is helping you - post a card on the 'share-ometer' and you could be a winner!!!

Look out for the Share-ometer in both Murray and St. Peter's Library.
(via uoslibmedia)
Printing credit - now available online
You can now top up your printing credit online at: studentprinting.sunderland.ac.uk

Apr 08
Handy Tips for Your Assignments -
Starting to stress about your assignment deadlines? Getting confused about the terminology that tutors are using? Don't worry, you are not alone! To help you with your studies, we have created some very helpful guides to help you through these testing times and support you in your continuing…
Revising - 10 ways to improve your memory -
Scratching your head about your revision? How can you remember all those things you've been taught this past academic year? Don't panic there are some easy ways to improve your memory - including clenching your right fist, chewing gum and going for a walk, as well as sniffing rosemary, losing…